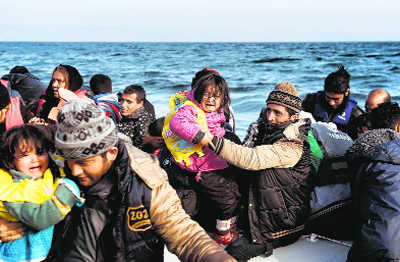 in deep waters: Migrants arrive on the Greek Lesbos island after crossing the Aegean Sea from Turkey on Sunday. AFP
Athens, November 8
Authorities have rescued several hundred migrants from the Aegean Sea off eastern Greek islands in relatively calm waters, also reporting the death of a toddler.
The boy, aged 2-3 years, was found off the coast of Lesbos fully clothed, including boots, and wearing an orange life jacket, the Greek coast guard said in a statement yesterday.
A coast guard spokeswoman, speaking on customary condition of anonymity, told The Associated Press, that there were no reports of a missing child from today's migrant arrivals or rescues. "Until we identify the boy, we cannot exclude anything," she said, leaving open the possibility that the child may have drowned before yesterday.
Earlier, Greek authorities had reported that yesterday was the first time in 11 days that no migrant had been reported dead in the Aegean, largely because of favorable weather.
Even with favorable seas, Greece's coast guard and EU border agency Frontex rescued a total of 429 migrants in seven separate rescue operations, authorities said. One of the boats was "in a difficult situation" while two others were "rudderless." — AP
Copyright : tribuneindia

Link : http://www.tribuneindia.com/news/world/hundreds-of-migrants-rescued-off-greek-islands/156113.html